50th Year Reunion
VICKY CHEN TRIBUTE AND MEMORY BOOK
Jackie Rickabaugh Ballance has put together a moving tribute to our classmate, Vicky Chen. Those who are interested in reading the book can email Jackie at jackieballance@comcast.net.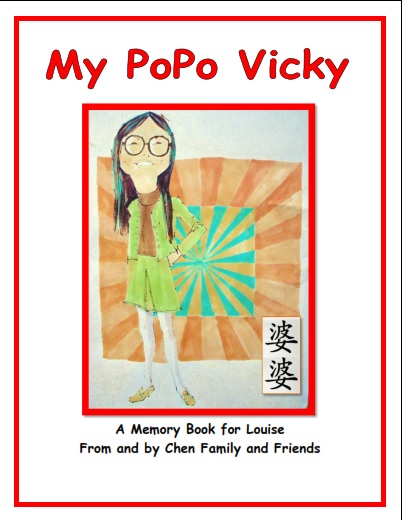 Reunion Weekend Agenda
Rich East Class of 1963 - 50th Anniversary Reunion
Marriott Lincolnshire Resort
Lincolnshire, Illinois
September 27 - 29, 2013
Welcome to Your Rich East High School 50th Reunion!
"We are the Rockets" Class of 1963!
Weekend Agenda Summary
Friday, September 27
9:00 - 4:00 Rich East Field Trip
3:00 - 5:00 Registration
5:30 - ? Meet and Greet
Saturday, September 28
7:00 - 11:00 Breakfast
9:00 - 4:00 Golf Outing & On Your Own Activities
5:00 - 7:00 Levin Photography – Individual Alumni Photos
5:30 - 7:00 Cocktail Reception
7:00 - 8:30 Reunion Dinner
8:30 - 11:00 Entertainment and Dancing
Sunday, September 29
9:00 - 11:00 Farewell Breakfast
12:30 Brief Committee Members Meeting
1
Detailed Weekend Agenda
Friday, September 27, 2013 – Rich East Field Trip - Marc Hynes, Organizer
9:00 – 4:00 Tour to Rich East and Park Forest Museum
Reserve in advance on the REHS website ($25.00 bus fee).
11:00 Park Forest History Museum Tour
12:00 Lunch buffet at Dunagains Irish Pub $10.00 per person
2:00 Rich East tour and meeting with Principal Kramer
3:00 – 5:00 Reunion Registration - Rich East Hospitality Suite
* Please self-register if you arrive after 5:00.
Keys for the Hospitality Suite can be obtained at the Lobby Desk with presentation of your name tag or reunion ticket. Lock Registration Room door after exiting – this is a secure setting storing valuable reunion supplies!
Reunion Registration
Registration Table: Lynne, Caryl, Arlene
Program Design and Assembly: Lynne Carr Warnock
Reunion Weekend Agenda: Rosie Monroe Broberg
2
Memorabilia Table: Virginia, Sheila
Please bring articles, souvenirs, photos, or other memorabilia from our high school days. Virginia or Sheila will tag them and display them on our memorabilia table in our Hospitality Suite.
Special Events and Activities Table: Carolyn, Kaye
Carolyn will be available to review Lincolnshire and Chicago attractions, maps, and brochures with you. Kaye has procured copies of the Chicago "Where" magazine for your review. A message board will be on display where you can post a request or offer a ride to classmates for various events, or post a message for others. This will make it convenient for car pools to be organized. Don't forget to sign-up! Contact the Marriott Concierge for reservations and ticket purchases for special activities, tours and excursions.
Golf Outing Information Table: Carolyn, Phil
Phil Stewart and Carolyn Edwards McHenry will be available for information regarding our REHS golf outing. If you signed up and paid for the Saturday Golf Outing, please check with Carolyn in the Hospitality Suite for your tee time. Please check the class website for more detailed information. You may also reserve private tee times with the Pro Shop.
3
Hospitality Room Food and Drinks
Classmates - You may bring your own food and alcoholic or non- alcoholic beverages into the hospitality suite to share.
A stocked bar and munchies are available compliments of Jim Kiley, Joe Nicolosi, Carolyn Edwards McHenry, Kaye Smith Stewart, and Rosie Monroe Broberg. Thank you for your donations!
Marc Hynes – Rich East Private Label Wine - Fundraiser
Marc has procured private label "Rich East Class of 1963 Reunion" bottles of wine for purchase, with proceeds going to Rich East High School and continued maintenance of our class website (www.richeast63.com). The private label wine will be sold in the Hospitality Suite and at the Reunion Dinner. This purchase not only benefits a worthy cause, but serves as a tasty souvenir of our reunion celebration. Please buy a bottle…or more! $20.00 per bottle.
Joe Nicolosi – Media Table and Lagoon DVD Fundraiser
Joe will be selling a DVD with copies of the 1960, 61, 62, 63 "Lagoon" for $20.00. Proceeds will go to our reunion fund and continued maintenance of our class website. Buy several for yourself, family, or friends!
4
Joe Nicolosi - Classmate Photography Upload Procedure
If you have a cell phone that takes pictures, we strongly encourage you to take as many pictures as you want of all events and activities throughout the reunion weekend. We will have a "high-tech" yet very easy way for you to share your pictures with all your classmates. As you take photos with your phone, you'll simply text or email each one to the following address: make63into@photos.flickr.com
These photos will automatically upload to a slide show and will immediately be displayed on our big-screen monitor at the reunion. We will have a 50" monitor showing a "real time" continuous loop of pictures you have taken. This procedure works with either a digital camera or a cell phone. Joe can also upload your digital pictures into the slide show using your camera's memory card. After the reunion, you can upload your personal photos to our class website www.richeast63.com so that we can view, download, print, and share our favorites! We will be donating the 50" wide-screen television to Rich East as a gift from the Class of 1963. Thanks to Joan Brady Long for delivering it to the school.
Friday, September 28, 2013 "Meet and Greet"
5:30 - ?? "Meet and Greet" - Marriott Bar and Lounge - Casual Attire
No Host drinks and restaurant menu are available.
On Your Own - Dinner/Dancing /Socializing
Make reservations at the Marriot in house restaurants or check out local restaurants and cocktail lounges!
5
Saturday, September 28, 2013 - Golf or On Your Own Activities
7:00 – 11:00 Breakfast
The Marriott has two buffets available, as well as several in-house restaurants. The Marriott has a discounted Grand Buffet at the "King's Wharf" restaurant which can be purchased for $35.00 per person (discounted rate with room reservation). They also offer a moderately priced breakfast buffet in the "Fairfield Inn" for $19.00 (no reservations necessary). The Marriott Bar and Lounge offers a great selection of meals and beverages. There is also a "Starbucks" restaurant on site for lighter meals.
9:00 – 4:00 Golf Outing - Phil, Carolyn
Meet at the Pro Shop where you can rent golf equipment and/or have a light breakfast or lunch. Now is the time for your "hole-in-one!"
9:00 – 4:00 On Your Own Activities
Please review the tourist brochures and the "Chicago Where" magazine at the Special Events table in the Hospitality Suite for Chicago and Lincolnshire attractions and activities. Get together with friends and plan a great day! Sign up for car-pooling and/or group activities on the message board in the Hospitality Suite!
Some Local Area Attractions:
Par King Mini Golf (award winning classic 60's style course). Let's try to get a group together for this!! Weather permitting! 5 minutes from Resort.
6
Cuneo Museum and Gardens in Vernon Hills, Illinois
This is an historic estate featuring period furnishings, classical paintings, and lovely gardens. This estate is owned and operated by Loyola University at Chicago. 8 minutes away.
Long Grove HistoricVillage, Long Grove, Ill.
Illinois' first historic district features an interesting mix of shops, restaurants, art, and entertainment. "Apple Fest" is scheduled for Sept. 27-29. 10 minutes away.
Marriott Theater is currently showing "9 to 5" as the feature presentation. This is a classic comedy about the antics of working girls everywhere! Purchase tickets at the box office.
* Consult the Marriott Concierge for additional information about Chicago and Lincolnshire attractions, tours, and hotel amenities. Please reserve special tours and purchase tickets at the Concierge desk in advance.
5:00 – 7:00 Levin Photography will be available in the mini-suite next to our hospitality room to take individual alumni photos. Using "Green Screen Technology" he will blend our individual photos together to create a group photo that will be far superior to traditional group pictures. All alumni must have an individual photo taken to be included in the group photo. You can purchase a 10 x 24 group photo for $25.00 plus $5.00 shipping to your home. He will take small group or couples photos as time allows. We are contracted for two hours. DON'T BE LATE!
5:30 – 7:00 Cocktail Reception – Casual / Dressy Attire (ties optional)
Cash bar, Canapes - Pavilion Tent Reception Area
7
7:00 – 8:30 Rich East Class of 1963 Reunion Dinner
7:45 – 8:00 "Welcome" - Rosie Monroe Broberg - Reunion Chairperson
Acknowledgements
Laura Dailey: Marriott Reunion Planner
Reunion Volunteers
Classmate Reunion Donors
Rosie Monroe Broberg Kaye Smith Stewart
Joe Nicolosi Bill Paul
Dean Osterling Greg Waller
Marc Hynes Nancy White Sullivan
Donna Busby Correll Jim Kiley
Carolyn Edwards McHenry Arlene Gerstel Clay
Introduction of the REHS 50th Reunion Committee
* Executive Committee:
* Rosie Monroe Broberg – Reunion Chairperson, Hospitality Food and Beverages, Weekend Agenda
* Joe Nicolosi – Music and Entertainment, Classmate Research, Hospitality Spirits and Wine, "In Memoriam" poster, Multi-Media Presentation, Class Website Administrator,
Name Tags Creator
8
* Marc Hynes – Legal Advisor, Music and Entertainment, Rich East Tour Organizer, Rich East private label wine fundraiser
* Ed Schmal – Treasurer
* Jim Kiley – Marriott Reunion Business Coordinator, Location Selection, Hospitality Spirits and Wine
* Kaye Smith Stewart – Location Selection, Food and Beverage Selections, Marriott Lincolnshire Liaison, Special Events
Committee Chairs:
Arlene Gerstel Clay – Decorations, Registration Packets, "In Memoriam" and Patriotic Tribute
Lynne Carr Warnock - Centerpieces and Reunion Decorations, Registration Packets - Design and Assembly
Carolyn Edwards McHenry – Events and Attractions Table, Golf Organizer, Hospitality Food and Beverages
Caryl Harris Sewell – Registration Packet Distribution, Name Tags Assembly
Virgina Hasler Painter, Sheila Quinell Hopkins – Memorabilia Table, Classmate Correspondence
Bob Witanowski – Classmate Location Research, Historian
Phil Stewart – Golf Outing Team Organizer
Dean Osterling – Photography Chair
Mike O'Bryant/Dean Bamer – Props, Equipment Set-up
9
8:00 – 8:15 In Memoriam Tribute – Arlene Gerstel Clay
Candle Lighting, Remembrance Poem
8:15 – 8:30 Introduction of Key Note Speaker
Class of 1963 President – Mr. Marc Hynes, Esq.
8:30 – 11:00 Entertainment and Dancing – DJ's Marc and Joe
Laugh along with us as our guest entertainers make light about the 60's generation, 50 year reunions, getting older, higher prices, and current events. They will amuse us with their humorous commentaries of Rich East memories and high school activities!
Give it Up for Mark "The Shark" Hynes
And Joe "The Schmo" Nicolosi
Dancing Contests! Guess that Song! 1960's Trivia!
Skits! Who's the Artist? Classmate Awards!
Open Mike – Your time to shine!
Classmates…You are invited to use the "Open Mike" to share your own memories of Rich East, entertain us with a song, amuse us with a joke, tell us a story, do a dance, shout out a cheer, make a comment, show photos of your family, and recall humorous events from Rich East! It's your time to shine!!! "Open Mike" will be available all evening.
10
11:00 Last Dance
11:00 - ? Free Socializing – Lobby, Patio, Hospitality Suite
* Joe will be uploading the "Sensational 60's Dance Music" to "You Tube" for your listening pleasure. "You Tube" download directions are available on a CD at the media table in the Hospitality Suite.
Sunday, September 29, 2013 Farewell Breakfast Buffet
9:00 - 11:00 Let's try to meet for an informal farewell gathering at the moderately priced breakfast buffet in the "Fairfield Inn." No reservations necessary.
"Farewells and Goodbyes"
Marriott Lobby and Hotel Entrance
Casual photos, Group photos, Last Laughs, Contact Info
12:00 Marriott Check-Out Time
* Be sure to pick up all your belongings from your room, Hospitality Suite, and Memorabilia Table. Remember your "Lagoon" DVD, Rich East Wine purchases, and your souvenir Rich East Reunion Program folder.
11
12:30 Brief Committee Members Meeting – Marriott Lobby
This will be our final meeting as members of the Rich East Class of 1963 - 50th Reunion Committee. It will be great to spend some time reminiscing about the amazing times we shared planning and attending our reunion together!
We Did It!!!!! A Toast is in Order! J
*If you are interested in serving on the committee for our next REHS reunion - please contact Rosie Monroe Broberg (krbroberg@msn.com) or Joe Nicolosi (joenicolosi@comcast.net) for information.
WE NEED YOU to volunteer for this very important committee!!!
Optional Sunday Afternoon Activities - On Your Own
Explore some local tours, attractions, excursions, and museums. Take a hike, play some golf, go for a swim, or work out in the fitness center! Go to a movie, try some bowling, read a book, or just relax!
Marriott Theater Performance at 1:00 and 7:00
Make reservations with the Marriott Box Office.
12
Farewell and Goodbye to the Rich East Class of 1963!
Thank you for attending our 50th Reunion Celebration!
Stay Connected on our richeast63.com class website!
Live Honestly Laugh Often Love Deeply
Speak Kindly Remember Joyfully Go Rockets!
13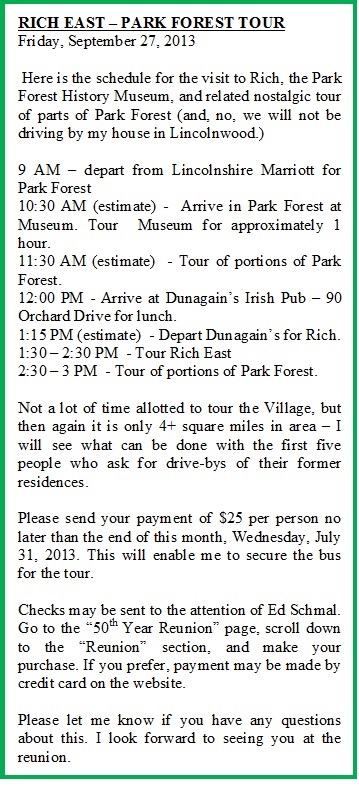 The Committee for the Class of '63 reunion is a group of volunteers assembled to plan and present several activities over the weekend of September 27-29, 2013 for fellow classmates. A non-refundable payment for attendance at the reunion event confirms the understanding and agreement that the Committee and its individual members cannot and do not make any guarantee as to the outcome of the event and will have no liability for damage or injury which may be sustained by participants in the event. Participants further understand and agree that their non-refundable payment confirms that they will be bound by all of the provisions with respect to this website set out in detail on the Important Disclaimer page of this website, and incorporated herein.
GOLF OUTING INFORMATION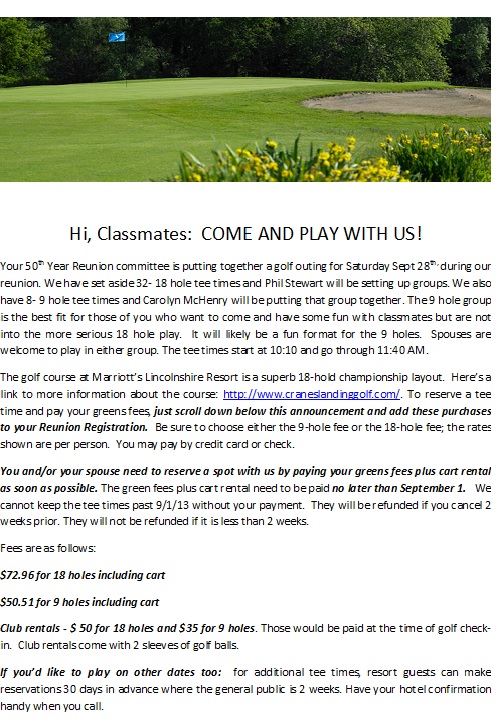 Rooms at the Marriott Lincolnshire Resort are subject to availability. Those who plan to attend should make room reservations now, so that you don't miss out. Call their worldwide toll-free number, (800) 228-9290. Our block of rooms at the lower rate are all reserved, but you can get reasonable rates at the Marriott Courtyard, 505 Milwaukee Ave., Lincolnshire, IL 60069, which is about a mile from the resort. Rates are subject to change and rooms are subject to availability.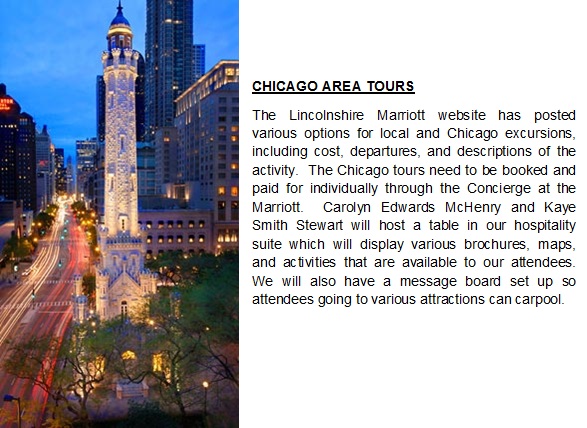 Reunion (Friday September 27 2013)
Tickets are $125 apiece if you pay by credit card, or by check.
Sorry, you must be logged in to buy tickets.
If you would like to order please
log in here
.
| NAME OF ITEM | QTY | COST |
| --- | --- | --- |
| Reunion Party | | $125.00 |
| Lagoons DVD | | $20.00 |
| Golf Greens Fee Incl. Cart (9 Holes - per person) | | $50.51 |
| Golf Greens Fee Incl. Cart (18 Holes - per person) | | $72.96 |
| Tour of REHS and Park Forest | | $25.00 |
| Wine Bottle Donation | | $25.00 |
| Reunion Photos DVD | | $10.00 |